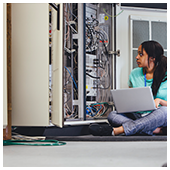 For all the talk about server hardware and capacity, none of it means a thing if you aren't carefully managing the physical space surrounding your server. If you're worried about getting the most out of your investment, follow these four tips for taking better care of your hardware.
Mount your servers properly
Small businesses are usually forced to prioritize the here and now over long-term planning. Not for lack of caring, it's just a fact of working on tight budgets and with small teams. This is especially evident when it comes to server planning. When your business first sets up shop, it's tempting to plug in a server right next to your workstations — but doing so puts your hardware in harm's way.
Mounting servers in a rack protects them from the accidents commonly associated with highly trafficked areas: spills, crumbs and tripping hazards. Server racks keep your most essential hardware safe by organizing everything in a space that is more accessible for cleaning and management but less exposed to the day-to-day wear and tear of your office.
Server planning is all about leaving room for the future. When choosing your rack mount, make sure to leave room for the hardware you will need to expand in the future. Unless office space is a serious concern, it's better to have a half-empty server rack than to be forced to tear the whole thing down and redesign it the moment you need to expand.
Keep servers separate from the main area
Depending on what type of servers you are running, they can create quite a bit of noise. This coupled with the fact that they are comprised of valuable hardware means that you should do everything in your power to keep your servers physically separate from your working space. If you don't have room for a server room, consider investing a little extra in a secure rack mount with built-in sound reduction.
Never skimp on cooling
Even when your business first opens its doors, server cooling is a crucial consideration. These computers are designed to work at peak capacity and need optimal conditions to do so efficiently. Even if your equipment seems to be performing just fine, too much heat can drastically reduce its lifespan.
Make sure that your cooling solution operates outside the confines of your building's infrastructure. If the central air gets shut off at night, or if your office experiences power outages, you need a cooling solution that switches over to backup power with your servers.
Keep wiring neatly arranged
For anyone without hands-on experience with server hardware, the number of wires going into and out of your setup is shocking. Getting the whole mess organized isn't just about cleanliness, it also affects the performance of your current setup and the viability of installing future upgrades. Any time you are installing, removing, or rearranging your server cables, check that everything is neatly labeled and safely grouped together.
Managing any type of hardware comes with dozens of important considerations, and that goes doubly so for servers. The best way to guarantee your IT investments are getting the care they require is by partnering with a managed IT services provider. To learn more about our services, give us a call today.